Minibook
Corda: the blockchain that doesn't use blockchain
Learn from early adopters, get strategic insights and explore use cases.
Discover why enterprise loves Corda and how it's used to capture new markets.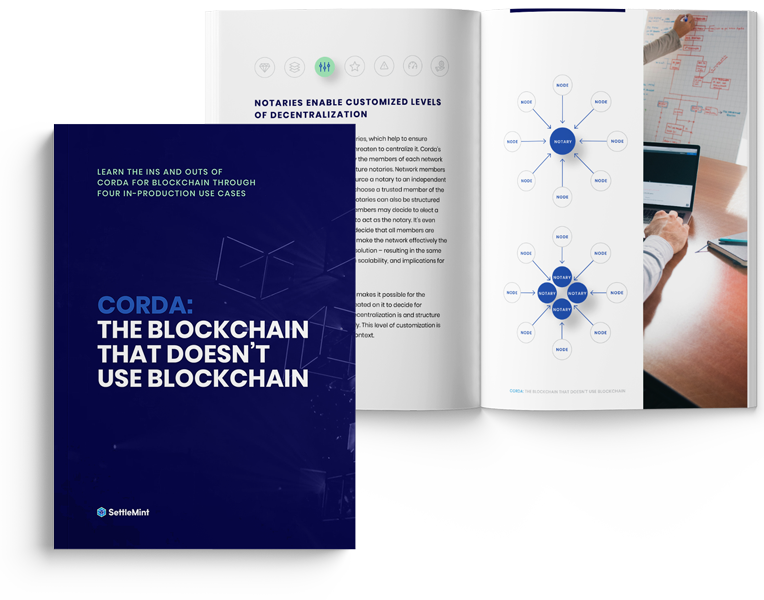 " In a closed-loop supply chain, the sensitivity of elements such as pricing means you have to be able to control who sees what information. R3's Corda has that capability—making it the clear first choice for our procure-to-pay application. "
- Mr. Orapong Thien-Ngern, Director at Siam Commercial Bank
" R3's Corda is the perfect technology to enable the sharing of information between agents and lenders on a need-to-know basis while being fully compliant with our stringent IT security policies. "
- Frédéric Dalibard, Head of Digital at Natixis
Here's what you will learn:
Why enterprise loves Corda

A rundown of Corda's enterprise-focused features

How enterprises are using Corda to capture new markets and deliver new value-added products and services
Find out what makes Corda different
Understand Corda's unique distributed ledger technology architecture from a high-level perspective. Learn how Corda's solution delivers the right balance of decentralization, privacy, and speed for a wide variety of enterprise blockchain use cases.
Gain insight into the current state of Corda
Learn how useful Corda is in 2020. Stay out of trouble by understanding which use-cases Corda is built for and when to use a different protocol.
Understand how Corda is being used today
Learn from enterprises that are leveraging Corda in a variety of industries. From syndicated loans to securities lending, supply-chain finance and even motor insurance authentication, get the scoop on how enterprises are leveraging Corda to streamline business processes, solve existing business problems, and capture new markets by creating new value-added products and services.
The developers behind Corda have designed the protocol specifically for enterprise use cases. Corda's architecture allows it to hit the sweet spot where security, throughput, and privacy are all sufficient. Not only that, the wide variety of enterprise-focused features – from the Flow Framework to the relatively simple integration of Oracles – means that, for many applications, it's often easier to develop and implement applications built on Corda than with other blockchain protocols. This report, which includes information on both the potential and limitations of Corda, is designed to help managers understand how to leverage distributed ledger technology to bring innovation without risk.
Founder and CTO of SettleMint